Imagine Express 2016 organised and carried outthe London- Paris- Barcelona- Barcelona route from Friday 19 to Monday 22, February. They were four days of intense work, in which 36 Dreamers, with different and previously selected profiles, developed their mobile applications in the following sectors: Fintech (Banc Sabadell), Smart Cities (Suez), Health (Uriach) and the Open category (Imagine new Foundation).
The first day was very intense. The 'Dreamers' began their journey by train, a trip full of new experiences, surprises and emotions which will never be forgotten and which will mark them forever.
The 36 Dreamers arrived at the Mobile World Center (MWC) full of enthusiasm and loaded with bags. The first contact with Imagine was the delivery of t-shirts, sweatshirts and train tickets to Paris and London. After that, they became "officially" Dreamers. Everybody was excited and nervous.
Albert Mikkelsen, the presenter, welcomed the Dreamers and introduced the staff and mentors of the event. At that time it began officially the Imagine Express 2016, starting the iconic countdown of 5,000 minutes.
Then the Dreamers began the activities in teams of 3 different profiles: creative, business and developer. The main activity was the speed dating, in which the Dreamers had the opportunity to meet and pitch their ideas.
The staff of Imagine Express carefully observed the dynamics generated in the speed dating and other activities to finally shape the teams. After a few minutes of deliberation by the staff, 12 teams were set and made official.
Once the teams were set, a group of Deliveroo, a company for quality food delivery, which brings in just 32 minutes the best food from restaurants in Barcelona and Madrid to homes and offices, entered the MWC and handed out bags of food for each participant of Imagine Express. They fed nearly 100 people with the best selection of salty "on the go" food and dessert!
The nearly 100 people arrived at the station. A "yellow wave" invaded Barcelona Sants station. Nearby travelers looked at us with surprise. We embarked! We boarded the train, occupied two wagons and the staff of Renfe-SNCF greeted us and made us feel at home.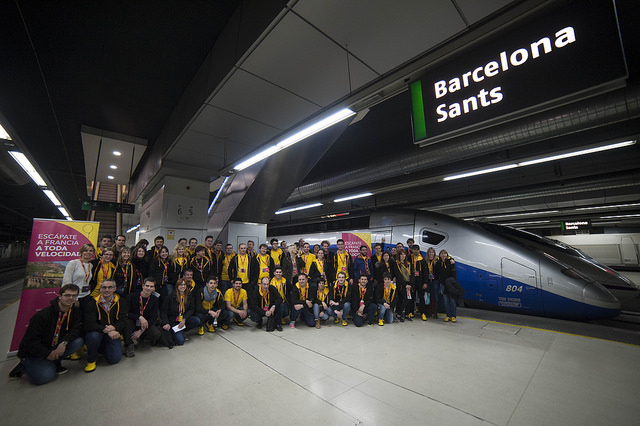 During the 6 hour trip, mentors and staff went through the cars and tables, talked to teams and exchanged views. Some ideas were fully redesigned.
When we arrived at the Gare de Lyon, in Paris, it had been 12 hours since the journey began and some people felt already tired. When leaving the train, groups "relaxed" a little, laughed and went on thinking. A bus was waiting for us and took us to the hotel. After dinner, the first day came to an end.
To find out what happened during the second day of Imagine Express 2016 in Paris, read the following entry Imagine Express 2016. Day 2. Paris